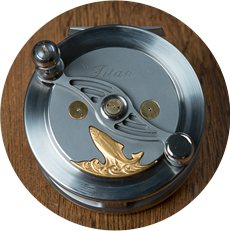 Titan
The Titan is our largest reel and is made out of resilient and distinguished titanium.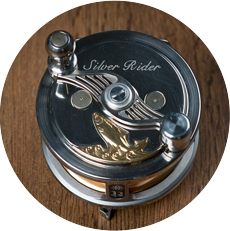 Silver Rider
The Silver Rider is the larger of the two mid-sized reels. An impressive shooting head makes it ideal for saltwater fishing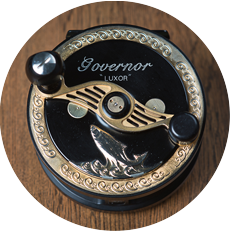 Governor
This is a mid-series model, introduced to be the ideal tool for the switch-rod sportsman.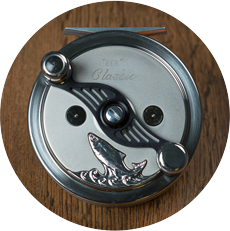 Elite
This is the smallest model, designed for all rods.
Line Capacity:
300 yards of 30 lb. test backing with 120' Spey DT 10/11 fly line or 400 yards of 30 lb. test backing.
Line Capacity:
300 yards of 30 lb. test backing with 120' Spey DT 10/11 fly line or 400 yards of 30 lb. test backing.
Line Capacity:
200 yards of 30 lb. test backing and a WF 10 fly line.
Line Capacity:
150 yards of 20lb. test backing and a WF 10 fly line.
Scultped to precision by aviation machinists...
Housing and Spools:
Our housing and spools are made from 7075 T 7351 aluminum, a metal that is heat-treated for hardness, then deep-anodized to provide the ultimate saltwater protection.
Shafts and gears
The shaft and all major gears are made of exceptionally durable aluminum bronze - the same material used for aircraft landing gears.
Brake Shoes and Bushing:
The brake shoes and bushing are all made of Vespel SP-211, a self-lubricating, 10% graphite, 15% flourocarbon SP polyimide resin compoud capable of withstanding temperatures up to 1200F. SP polyimide is so strong and reliable that it is used in the production of jet engines and even space shuttles.
The Reel Body:
The reel body is machined from solid bar aluminium rather than capped pipe aluminium, allowing even the tiniest detail to be machined with unrivalled precision.
The Internal Drum:
The internal drum is the "heart" of the reel. A simple switch allows the reel to be converted from right to left hand use.
Drag Shoes:
The drag shoes are made of Vespel and ventilated to evacuate heat; enabling a lifetime of use without any adjustments or replacements. The drag has 7 settings which can be changed using a conveniently located and calibrated lever on the outside of the reel. The clicker has three settings (high, low, silent), as opposed to the click-on click-off settings of most other reels.
Additional Features
Nitrated stainless steel, which provides increased resilience, is used for all parts where strength is critical. Staub reels have no external screws. They come apart simply by pushing a button and twisting, bayonet-style. The unique drag system has three pads with three springs per pad. These pads are individually machined from extra strong aluminum bronze.
Gears:
Staub reels have one of the strongest and smoothest running gear systems of any reel in the world. Most top quality fly reels have flat gears with a maximum of 35 teeth. Staub reels have three meticulously machined helical gears with 50 teeth per gear, those of which are roughly three times longer than in most high quality reels. Accordingly, the gears engage each other with the utmost precision, resulting in a significantly cleaner running system. Lastly, our reels contain an extra gear that supports the main spool gear, virtually eliminating vibration.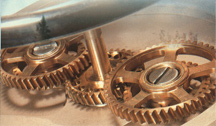 Spool:
The spool has four posts with springs in its core, two to engage the drag system and two to isolate the spool from vibrations. Furthermore, the spool is machined in a way that prevents jamming, even when the line becomes damp.
Customizations
---
Staub Reels are crafted with the emphasis on quality and performance. These are direct consequences of our dedication to excellence, innovation and out mastery of precision machining. The result is a revolutionary standout reel of the highest class.
Accordingly, our reels can be customized with silver or gold (24K) plating as per the customer's wishes. The handle and counterbalance can be further personalized with a variety of petrified woods or semi-precious stones.
Reels can be ordered in black, gold or antique nickel, and with or without the fish motif. Staub Reels are available with direct drives or 2:5:1 multipliers, with drags smooth and powerful enough to reel-in even the toughest game fish.