LEESTA Industries manufactures a wide range of products for the aerospace industry. With the support of the PWC Engineering and Procurements team, we have introduced some of our featured products.
#4 Bearing Housing (16x6")
This titanium bearing housing assembly is a jet engine component manufactured and assembled by LEESTA Industries for Pratt & Whitney Canada. The original design required 4 separate components be welded together to form the final assembly, however LEESTA conceived of a way to significantly improve the process. By machining the housing directly from a forging, LEESTA reduced the number of components, and consequently the number of welds needed to complete the final assembly; resulting in major cost and time savings throughout the supply chain.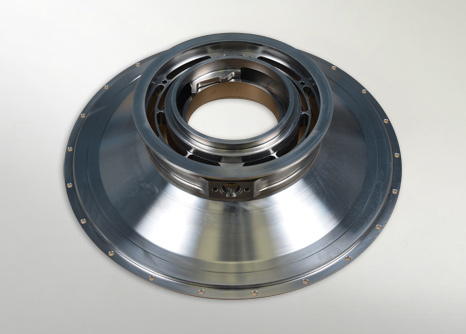 Ball Spline (5x4")
In the case that a plane loses its hydraulic capability, the ball spline disconnect assembly engages the override of the flight control, allowing the pilot to fly the plane using the manual controls. The design and manufacture of this innovative part is proprietary to LEESTA Industries. We are the only manufacturer who can produce, repair and overhaul this state-of-the-art flight control component.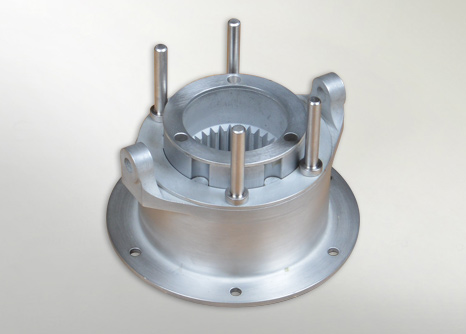 Actuator Assembly (3x8x16")
LEESTA Industries manufactures, assembles, repairs and tests a wide range of actuator assemblies for both aircraft flight control and landing gear. Surpassing the majority of industry players, we are capable of performing both Skydrol and Red Oil hydraulic actuator tests in-house using a selection of test stands. LEESTA is one of very few precision manufacturers to offer such a comprehensive, one stop shop for actuator assemblies, as well as many other aircraft parts.
PT Housings (7x10" & 16x16")
LEESTA Industries has a cell dedicated to the production of small and large PT Housings for Pratt & Whitney Canada. The PT housings are complex welded assemblies made of both stainless steel and Inconel. The manufacturing process for the small and large PT housing involves 2 and 5 welds respectively, all of which is done in-house by our skilled and certified TIG welders. LEESTA has an output of approximately 1200 small and 400 large PT housing assemblies yearly.